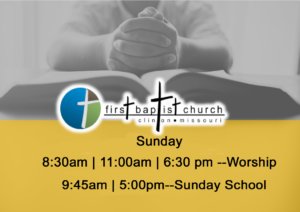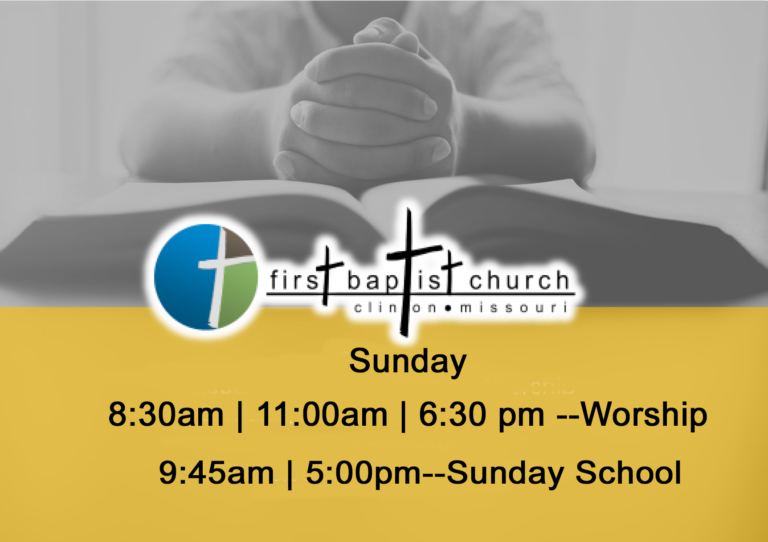 WE'RE EXCITED YOU'VE JOINED US!
WHAT TO EXPECT: A family-friendly church with a lot of great people. We'd love for you to join any of our small groups and get connected even more!
THE CONNECTION LOBBY: We have coffee, snacks and plenty of good chat among friends. Stop by and discover what's waiting for you. You can also sign up to receive updates from the church.
WORSHIP TIMES: We worship at 8:30 and 11:00 AM on Sunday mornings, with Sunday School at 9:45 AM & 5:00 PM. We'd also love to have you join us for worship Sunday evening at 6:30 PM. Join us for worship and get ready to experience a church loving you toward a growing relationship with Jesus!
HERE ARE OUR SUNDAY SCHOOL CLASSES:
Beacon Class - Middle Age to Older Adults
This is a co-ed class led by Ray Noland. We study in-depth scripture.
First Left, Last Right / Young to Middle Ages
FLLR, led by Howard Bullock, usually studies from the LifeWay series, but occasionally will add a 6-8 week themed study. The intent is to apply scripture to everyday life. The group is loud, opinionated and always has fun. FLLR is not defined by age, but instead by love for each other.
F.I.S.H. (Friends in Service to Him) / Middle Age to Seniors Adults
The FISH class, led by Roger Bancroft is a group of friends (old and new) seeking spiritual growth through small group discussion and application of scriptural truths. This group is always looking for new perspectives and those who like to participate in discussion.
Helping Hands / Senior Adults
Galen Dody and Roy Batschelett lead this group of faithful senior adults studying scripture in-depth. They work together to be helping hands to each other and to this community.
Iron Sharpens Iron / Men of All Ages
ISI, led by Daniel Dody, is for men of all ages. Men-focused studies emphasize growing together in relationship with Christ. Each study relies on the Scriptures, personal experiences and individual perspectives. The studies are often video based.
LIFE (Living in Faith Everyday) / Middle Age to Senior Adults
LIFE, led by Bill Houk, seeks to apply Bible teachings by examining scripture accounts of how God interacted with people, in both the Old and New Testaments, in their daily lives through diverse experiences. They use the scripture to remind us that we can have a meaningful life today, regardless of our situation or circumstances.
Lost and Found/ All Ages, singles and couples
CIA, led by Keith Ross, is an adult class welcoming all ages, singles and couples. Scriptures and issues are openly discussed with transparency. Participants are invited to share in what God has done in their lives.
Seekers / All Ages
A Bible study group for all ages. Verse by verse is the usual Bible study approach. Occasionally, the group engages in an in- depth topical study. Biblical references, both Old and New Testament, are used to help with interpretation and life application.
W.O.W. (Women of the Word) / Mixed Age Women
An eclectic group of mixed-age women engaged in a variety of topical Bible studies led by Celia Harmon & Lois East. Various individuals take the lead in teaching. Some studies are video-driven. Emphasis is placed on creating community within the class.
Young Adults Class / Young Adults, single or married
Led by JD Manning, this class is designed for singles and young married couples, with or without children. Various topics encouraging spiritual growth are studied. They get together outside of class for socials. Many of the members are also a part of a marriage group, which meets twice a month to discuss topics related to strengthening marriage and family.